Finton's
Landing Bed & Breakfast on Keuka Lake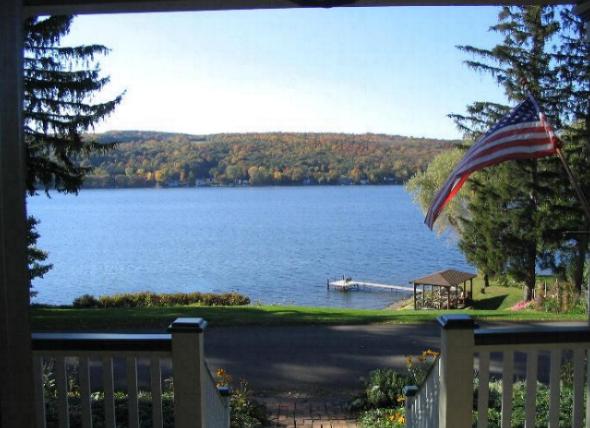 Keuka Lake from our front door
---
July 8th 1994, we greeted our first B&B guests. The "off-season" included a huge restoration with 28 tons of debris removed. On Mother's Day weekend 1995, we re-opened. The rest is history.
A wonderful chapter in our lives began. Who knew that Doug's "toast question" would become so legendary or that we would be serving "the" French toast on our last morning, 12 October 2015. After 22 fun-filled and stamina-testing seasons, we are retiring. It is bittersweet.
Before purchasing Finton's Landing, we researched the B&B business and lifestyle. We consulted family and friends. Yes, we asked for their honest opinions. There were long pauses, many thought provoking questions, but ultimately smiles and fabulous support.
To this day, we remember when the interior and exterior walls were coming down, the dust was everywhere, no heat plus nowhere to sit. Arianne's parents came for a surprise visit. They walked around slowly and formally uttered, "You must really trust your craftsman." They hit the nail on the head!
Friends brought assembled picnic baskets full of delicious treats so we could all take a break, giggle and enjoy their company and pep talks. Then, like magic, there was no clean up, as they took it all home. That was our beginning.
We had an adventure that we never could have done without our loyal returning guests, the entire Penn Yan community or our patient professionals who kept this B&B in great shape.
We learned a lot and our guests shared gardening tips, great recipes, but mostly you shared a part of our lives. Doug and I saw love budding, marriage proposals, great birth announcements and the tender sharing of the loss of much beloved parents, friends and spouses. It's life, and many of you became family.
The average B&B lasts 5-8 years, so this is the time for humble thank-you's. We still can't believe it's been 22 seasons!
We are looking forward to the next set of adventures in our lives on Keuka Lake, our home.



4 air-conditioned rooms

All private baths

Private beach

Cozy hammock

All queen beds

Along 2 wine trails

Full breakfast included
Penn Yan, New York 14527

Day is

Done
---

Sigh...

An unforgettable sight.
---
<!/A->


<![if !supportLineBreakNewLine]>
<![endif]>
Rates $199 per day

Doug and Arianne - your hosts
updated
May 1, 2015