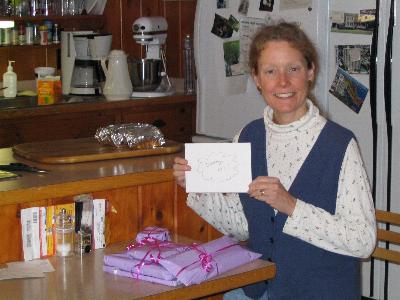 WOW! Doesn't that look good!


Pumpkin Chocolate Chip Bread

Ingredients:
2-3 tsp baking soda
2/3 cup water
3 cups sugar
1 cup vegetable oil
2 cups pumpkin (1 lb can)
4 eggs (or 8 egg whites)
3 1/3 to 3 1/2 cups flour
1 tsp cinnamon
1/2 tsp nutmeg
1 tsp vanilla
1 cup chopped walnuts (optional)
12 oz chocolate chips

Directions:
Mix baking soda, water in a measuring cup. Pour into a large mixing bowl and add remaining ingredients. Beat until thoroughly mixed. Pour into greased and floured bread pans. Bake at 350 degrees for 50-60 minutes.

*This recipe makes a large quantity. I usually make 3-4 smaller pans and 12 mini-muffins. Baking time will need to be adjusted. Mini muffins take about 15 minutes, smaller pans take about 30-40 minutes. They are done when cake tester comes out clean. Allow to cool on a wire rack before removing from pans. These freeze well.
Banana Bread

Ingredients:
1 cup sugar
1/3 cup margarine, soft
3 bananas
2 eggs
1 tsp soda, dissolved in 1 Tbsp cold water
2 cups flour
1 tsp baking powder
1/2 tsp vanilla
1/4 tsp cinnamon
1/4 tsp nutmeg

Mix ingredients together and heat oven to 350 degrees. Place batter in greased and floured bread pan or muffin tins. Bake 10-15 minutes for muffins and bake anywhere from 1/2 hour to 45 minutes, depending on pan size. Done when cake-tester comes out clean.

*To make the recipe non-fat and cholesterol free, substitute 2 egg whites for each egg and/or 1/3 cup applesauce for the margarine.
Blueberry Pudding Cake

Ingredients:
2 cups fresh or frozen blueberries
1 tsp ground cinnamon
1 tsp lemon juice
1 cup all-purpose flour
3/4 cup sugar
1 tsp baking powder
1/2 cup milk
3 Tbsp butter or margarine, melted

Topping:
3/4 cup sugar
1 Tbsp cornstarch
1 cup boiling water

Toss the blueberries with cinnamon and lemon juice; place in a greased 8 inch square baking dish. In a bowl, combine flour, sugar and baking powder; stir in milk and butter. Spoon over berries. Combine sugar and cornstarch, sprinkle over batter. Slowly pour boiling water over all. Bake at 350 degrees for 45-50 minutes or until cake tests done
Cornbread

Ingredients:
1 cup flour
3/4 cup yellow cornmeal
2-4 Tbsp sugar
1 Tbsp baking powder
Dash salt

1 egg
2/3 cup milk
1/3 cup oil (or margarine or butter, melted)

Mix first five ingredients in bowl with fork. In small bowl with fork, beat egg, milk and oil. Pour all at once into flour mixture, stirring until just moist. Pour batter into muffin tins and bake at 375 degrees for 20 minutes.

Makes 12 muffins.

*For a variation, omit the sugar and use part of a 4.5oz can of drained chilies to taste.
Granola Cereal

Ingredients:
1 cup margarine
1 cup packed brown sugar
2 tsp vanilla
Put in medium saucepan. Bring to a boil. Simmer five minutes, stirring occasionally.

6 cups quick oats
6 cups cornflakes or bran flakes
1 cup wheat germ (I use toasted)
1 cup sunflower seeds
1 cup nuts (any kind)

In a large baking pan, add the above ingredients. Mix well. Pour above hot mixture over dry ingredients. Stir until coated. When the mixture has cooled slightly, I toss the mixture with my hands to fully coat. Bake at 350 degrees for about 10 minutes. Remove from oven and stir in the fruits listed below.

1 cup raisins
dried apricots, dried cranberries, dried dates
Be creative and add what you like!

Allow to completely cool and store in an air-tight container.
Delicate Lemon Squares
1 cup all-purpose flour
1/2 cup butter, melted
1/2 cup confectioners' sugar
2 eggs, beaten
1 cup sugar
2 Tbsp. Flour
2 Tbsp. Lemon juice
1/2 Tbsp. (zest) grated lemon rind
In a small bowl, combine 1 cup flour, the melted butter, and the confectioners' sugar. Spread the mixture in an 8" x 8" greased and floured pan. Bake in a 350* oven for 15 - 20 mins. When done, it should look like a shortbread, only slightly browned.
In the same bowl, combine the eggs, sugar, flour, lemon juice and lemon zest. Pour this mixture over the baked layer and bake for 20 - 25 mins. I always bake it for the 20 mins. When you remove it from the oven, score the edges with a sharp knife.
Cool completely before cutting into squares. I usually put it in the fridge before cutting; it cuts more easily. A French knife works well because it doesn't tear the lemon portion and cuts the bottom layer. This freezes beautifully.
Dust with the confectioners' sugar right before serving.
Hint: 2 Tbsp. Lemon juice = 1/2 lemon squeezed.
I usually zest the entire lemon, divide, and freeze the unused portion. This way, I can use reconstituted lemon juice from a bottle if I don't have a lemon, and I can still use the zest from the freezer.
Serve 8.
Coffee Pecan Chews
3/4 cups flour
1 Tbsp. instant coffee
2 eggs
1 cup sugar
1/2 cup melted margarine or butter
1 Tbsp. Vanilla
1/2 cup chopped pecans
Sift flour and instant coffee, set aside. Beat eggs until foamy, gradually add sugar and beat until stiff. Stir in melted margarine and vanilla. Add dry ingredients and mix well. Add nuts. Pour into greased and floured 8"x 8" pan. Bake at 350ļ for 30 minutes. Cool in pan, then cut into squares. Freezes well.
ÖFor helpful hints with this and other breakfast recipes, call Arianne at 1-315-536-3146.