TRENTON
SAL TEE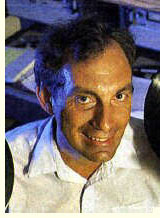 Today he's in Orlando, Florida, but in the seventies Sal Tee presented his Hall of Fame show on WTTM (920 AM), in Trenton, New Jersey, Sundays from 8pm to midnight. In mid-summer 1975 he moved to WTNJ (1300 AM) doing Saturday afternoons from noon to four.
The #1 doo-wop show for south-central New Jersey, Sal Tee's Hall of Fame highlighted such groups as The Cadillacs, The Del Vikings, The Five Satins, The Spaniels, The early Drifters, The Tokens, The Flamingoes, The Penguins, The Capris, The El Dorados, The Skyliners and dozens more. Sal had fantastic acapella show promos and ID's in the classic doo-wop style. One presented the show's mailing address as a take-off on The Jacks' hit "Why Don't You Write Me" and sounded like it was done by the original artists. It probably was.
A genuine scholar of doo-wop, Sal's knowledge of each group, its history and recordings was -- and is -- comprehensive. Even in high school he was famous for his matchless record collection. On the air he'd name not just the song but all the singers. An hour or more of every show was devoted to an in-depth exploration of one group. A native Trentonian, Sal brought something unique to the town he affectionately called "the Big T."


If you wonder how "doo-wop" music got its name, listen to the first song in this segment, from WTNJ Trenton on August 23, 1975, of the
Sal Tee Hall of Fame.

About 1980 Sal left Trenton to do Sal Tee's Solid Gold Reunion on WDBO (580 AM) in Orlando, Florida. The show ran for 12 years on WDBO, where it became the No. 1 Arbitron-rated show in its time period. Later Sal did his Doo Wop Reunion from WAMT (1060 AM), Saturdays from 1-4 pm. The nation's only syndicated doo-wop show, it was carried in 36 markets, including 93 WBBG in Youngstown, Ohio. Most recently Sal Tee's Doo-Wop Reunion was heard on WMEL 920 AM in Melbourne, Florida.
One Sunday afternoon in 1998 while station-surfing on the car radio in southern Vermont around 1340 AM I heard, for the first time in more than 20 years, the familiar voice of the superb Sal Tee.
He still sounds good.
JERRY BLAVAT -- "THE GEATOR" -
The "Geator with the Heater." The "Big Boss with the Hot Sauce." The unique DJ, still going strong and now as much a Philadelphia institution as a cheesesteak or the Academy of Music. Jerry's been on nearly every music station in Philadelphia at one time or another and many in south Jersey, playing the music his way. Decades after other stations chained their DJ's to a limited playlist and a tight, canned format, the Geator plays what sounds good to him from the Geator Gold Vault of classic doo-wop, acapella, motown and Philadelphia area dance hits of the fifties, sixties and seventies.
What holds it all together is the unique on-air personality of the man himself. Here's the Geator on WFIL in 1984, during that station's return to its "Famous 56" format. "By the big tick-tock on the station clock -- it's time to ROCK!"

Today Jerry's such an icon in the Philadelphia cultural firmament that he hosts fundraising for Public Television. But in the sixties he was recognized as the wildest performance artist in the City of Brotherly Love. Here's the Geator introducing his "Guess What?" album. Brace yourself.

Jerry started playing music on WCAM (1310) in Camden in 1962. He moved on to WHAT (1340) in the mid sixties and in 1965 began hosting Discophonic Scene, first in WCAU - TV10 and later on WFIL-TV6 and in national syndication. In 1972 he became one of the first on-air personalities on oldies WCAU-FM (today's WOGL), doing a Sunday night show. In the mid-seventies he was heard on WFIL on special occasions like New Years' Eve and returned there about September 1983, hosting the Sunday night show when WFIL returned as "Famous 56" after a disastrous experiment as a country station. About 1987 Jerry moved to "Philly Gold Radio" WPGR (1540), which became "Geator Gold Radio" in April 1992. That year he also began hosting "On the Air With the Geator" on Philly-57 TV and the Nostalgia cable channel. Following the demise of WPGR in 1995, Jerry moved Geator Gold Radio to WSSJ (1310), then in January 1999 to WNJC (1360) after 'SSJ changed to an all-Spanish format. Today the Geator Gold Radio network consists of WNJC 1360 in Vineland, NJ; WPAZ 1370 Pottstown, PA; WBCB 1490 Levittown, PA; WVLT 92.1FM Vineland, NJ and WTKU 98.3FM Ocean City, NJ.
The Geator finally expanded his act to the world wide web in 1999. Today, you can hear Jerry Blavat's Geator Gold Radio show on the internet, weekday afternoons from 2 to 7 and evenings from 9 to 11. Details appear in GEATOR! A TRIBUTE TO JERRY BLAVAT. You'll find the link at the end of this page.
Jerry Blavat was among the radio D.J.'s honored by the Rock & Roll Hall of Fame in 1998.
JOCKO HENDERSON
Douglas "Jocko" Henderson blasted into orbit twice a day with his Rocket Ship Show and his unique rhyming patter. One of the pioneering DJs, Jocko was the first to be broadcast in two cities. Starting in 1953 he'd hop the train after the daytime show on Philadelphia's WDAS (1480 AM) to make it to New York for the countdown at WOV (1280 AM; which became WADO by 1960).

"Not the imitator ...not the duplicator ...but the ORIGINATOR!" The "Ace from Outer Space" was the original rapper, with an apparently limitless ability to extemporize rhyming slang.

E-diddley-dock -- this is the Jock.
A native of Baltimore, Jocko started on that city's WSID (1010 AM) in 1952. Seven months later, in 1953, he accepted an offer from WHAT (1340 AM) in Philadelphia, where he took on the name "Jocko" and started rhyming everything he said. Less than a year later he moved up the Philadelphia dial to WDAS where he remained well into the sixties.

Jocko emcee'd legendary rhythm and blues and rock n' roll acts at such famous venues as the Apollo Theater in Harlem and Philadelphia's Town Hall.

In the '80s and '90s he was heard on the air in New York on WCBS-FM's periodic reunions of classic DJ's. Here's the Ace from Outer Space on the 1991 reunion show.

In his last years Jocko Henderson showcased his rhythmic artistry in his educational cassette program called Get Ready, teaching English, math and history.
Jocko's career is discussed at length in The Pied Pipers of Rock'n' Roll
by Wes Smith (1989).
Jocko Henderson died on July 15, 2000 at the age of 82.
Here are links to some of the obituaries and recognitions.
NEW YORK
THE FRANKIE CROCKER SHOW on WWRL from 7pm to midnight. There is no other like this soul brother. "Tall, tan, young and fly," he's the 8th Wonder of the World with a show-opening riff that's one of a kind.

Here's his "peace...love...soul" mantra on WMCA New York (570 AM) in September 1969.
Frankie loves ya, baby.

A Rock 'n Roll Hall of Fame honoree, a program director as well as on-air performer, Frankie's career has taken him to WMCA, WWRL and WBLS in New York City; WGCI & WNUA in Chicago; KUTE in Los Angeles, and WKKS in St. Louis. He hosted NBC TV's Friday Night Videos and was one of the first VJ's on VH-1. Most recently Frankie was presenting his music and his unique sound on the internet. You'll find a link to his website at the end of this page. And remember:
"If Frankie Crocker isn't on your radio, your radio isn't really on."
Frankie Crocker died on October 21, 2000.
The New York Times carried an obituary, which you can read here.
THE GUS GOSSERT SHOW
WCBS-FM (101.1), later WPIX-FM (101.9) on Saturdays and Sundays from 6pm to midnight. "The curly headed kid in the second row" played the acapella, street-corner harmony sound in the early seventies, when nobody else in New York did. Some credit him with coining the term "Doo-Wop."
The "curly-headed kid" line itself was a reference to the doo-wop era, specifically to 1950's WMGM DJ Peter Tripp, who called himself "the curly headed kid in the third row."
Recordings of Gus Gossert on the air are quite rare. Fortunately, rock radio historian Dale Patterson has included one on his outstanding Rock Radio Scrapbook website.
On WCBS-FM in 1969 and '70 Gus began and hosted the "Doo-Wop Shop." This was well before the station went to its all-oldies format in July 1972. The "Doo-Wop Shop" remains a fixture of WCBS-FM, where it is presented today, as it has been for many years, by Don K. Reed.
In January 1971 Gus brought his show to WPIX-FM for the 6pm to midnight shift on weekends. He loved old radio and occasionally would play something like a complete Amos 'n' Andy show from the '30s -- again, before anybody else was doing Golden Age radio.
Gus is now spinning those oldies in rock and roll heaven. Trickle, Trickle.
ROBERT CHARLES "GUS" GOSSERT
June 4, 1943 - August 14, 1976
NEW HAVEN
KEN JORDAN'S JUKEBOX
In the mid-'70s, Ken Jordan brought the sound of pre-British invasion rock and roll to life on WCDQ (1220 AM) in Hamden, Connecticut, Sunday afternoons until station sign-off at sundown. With lots of the 50's group harmony sound and a fair representation of instrumentals that you don't hear often, Ken kept you wanting more right up until his signature show-closer, Harlem Nocturne by the Viscounts. Watching the sun disappear behind West Rock as Ken signed off with the spooky saxophone of Harlem Nocturne was one of life's little memorable pleasures.

Thanks, Ken.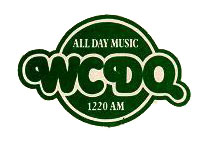 By the early '90s Ken Jordan's show was on WELI 960 AM. Later Ken was heard on WAVZ 1300 AM in New Haven, doing his Hall of Fame show Sunday nights from 7 to midnight. In July 2000 his show went to WLNG 92.1 FM in Sag Harbor, Long Island, which covers the Connecticut coastline.

New Haven, Connecticut

Ken Jordan's Jukebox was sponsored by Merle's Record Rack at 821 Chapel Street in New Haven. That's where, in in the summer of 1977, the producer of this site bought the copy of Harlem Nocurne that you just listened to. Merle's is no longer in downtown New Haven, but it's still a presence in Connecticut with locations in Derby, Guilford and Hartford.

The station known as "1220 'CDQ " in the days of Ken Jordan's Jukebox has gone through numerous incarnations since then, including a feminist format and a Spanish language format. Today it is WQUN, owned and operated by Quinnipiac College. Call letters WCDQ now belong to 92.1 FM in Sanford, Maine.

As a college student I used to phone in requests to Ken in the WCDQ days of the mid -70s. He was unfailingly accommodating and kind.

It was therefore with particular sadness that I learned of Ken Jordan's death on January 20, 2004.

This obituary appeared in the New Haven Register.
---
LINKS
If you're interested in the Top 40 AM radio era, visits to websites such as
The Reel Top 40 Radio Repository, Rock Radio Scrapbook,
Musicradio 77 WABC, Classic Philadelphia Radio and Famous 56 WFIL websites are mandatory. Block out a week or two of vacation for each site.

© Text and other original content Copyright 2000 - 2006 Bill Smith