'SOLID GOLD REUNION' IS TOP DOO-WOP SHOW
Orlando Sentinel Tribune
Style Section, page E2
Saturday, November 9, 1991
by Catherine Hinman
of The Sentinel Staff
Sal Tee is rockin and rollin'. Tee's doo-wop show on WDBO-AM (580), Solid Gold Reunion, is the top-rated show in Orlando on Sunday nights. In the most recent summer Arbitron ratings, the show climbed from No. 4 to No. 1 in its time period - 6 to 11 p.m. - among listeners aged 12 and up.
Although both WOCL-FM (105.9) and WGTO-AM (540) have doo-wop shows (WGTO's Doo-Wop Shoppe airs opposite Solid Gold Reunion from 8 p.m. to midnight Sundays), Tee thinks his popularity is based on his knowledge of the genre.
Tee not only plays music by such '50s and '60s artists as the Five Keys, the Moonglows, the Dominos and the Cufflinks, but wraps each song with its history: who the band members were, where they came from, how the band got its name.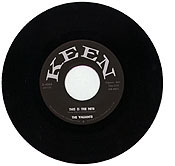 He also interviews the artists and album producers who lived the music. "Basically, what it is is a history of the roots of rock 'n' roll." Tee says of his show.
Tee, 45, has been holding doo-wop court in Orlando since 1980, when he became a full-time WDBO employee. He quit WDBO in 1984 to form his own business providing music for parties, but returned to the air in 1986 with solid Gold Reunion.
Before coming to Orlando in the mid-'70s, Tee worked with many of the doo-wop artists in Trenton, N.J., where he hosted an oldies radio program and sponsored doo-wop groups in nightclub shows. He draws his show's music from a collection of more than 30,000 albums.
As founder of the Central Florida Group Harmony Association, he hopes to bring some of the groups here to perform.
"A lot of them have reunited because this type of music has become very, very popular," he says.
Photo on this page made exclusively for the Radio Greats website
---