Friday, March 30, 2001
The Geator's guys and dolls
The 40s-to-50s set dances as Jerry Blavat spins in Atlantic City.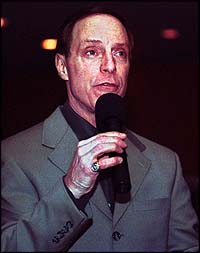 Veteran DJ Jerry Blavat works the Copa on Thursdays.

By Ed Condran
FOR THE INQUIRER

On its own, the Copa Lounge is an unremarkable room. The Atlantic City nightspot has the requisite bar, tables, and television sets tuned to ESPN.

A certain personality, however, can add a great deal to the club on the second floor of the Sands Hotel & Casino. In 1981, after performing in A.C., Frank Sinatra would relax at the Copa with pals Dean Martin, Sammy Davis Jr. and Jerry Blavat. The Chairman of the Board is gone, but he can still be heard there on occasion on Thursday nights between 5 and 7. That's when Blavat, the Geator with the Heater, the Boss with the Hot Sauce, holds court.

Blavat doesn't just serve up Ol' Blue Eyes' "New York, New York" or "My Way." The charismatic South Philadelphia native renders such seldom-heard Sinatra tracks as "There's a Small Hotel" or "Someone to Watch Over Me."

He pleases longtime fans with the familiar and the obscure. Who else is spinning the Marcels' "Goodbye to Love" or Martha Reeves and the Vandellas' "A Love Like Yours (Don't Come Knocking Every Day)"?

"Nobody," Blavat says. "I play it from my heart, not a research chart."

Blavat, 60, has the patter to go with his platters. During his Copa shows, he greets regulars while working the turntables. "My men from Brooklyn," he says when Ron Catania and Joe Scarp waltz into the club.

"He's an American original," Scarp says as "Rockin' Robin" blares. "We come down every couple of weeks to see him."

Maureen Hill, a Manchester, England, native who lives in Manhattan, pops into the Copa whenever business brings her to A.C. "He's fabulous," Hill says. "He plays my songs."

While Hill waits for the Standells' "Dirty Water," Colleen Buriak of Clementon spins on the tiny dance floor. Buriak, 33, is one of the younger people in the room, which draws a 40s-to-50s crowd.

"This is where I can go and do all the dances my father taught me," Buriak says. "I don't just do them at weddings. I can do them here."
---
The Copa Lounge, at the Sands Hotel & Casino, Indiana Avenue and Brighton Park, Atlantic City. 609-441-4000.